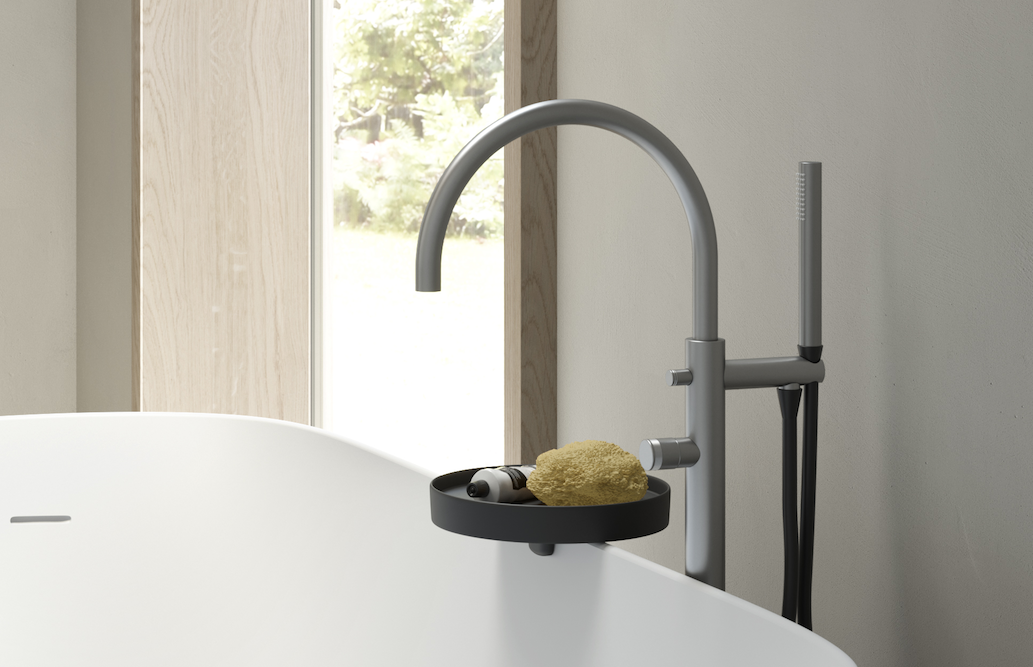 News at home Geelli! We present Grip Collection, a set of accessories in integral polyurethane, designed by the designer Monica Graffeo, that can be mounted and positioned on the edge of freestanding bathtubs and sinks, to keep all the essential care or relax items within easy reach.
Maximum/Highest versatility 
The Collection il composed by pan (Ø 19 cm | h. 8cm) and tray  (Ø 26 cm | h. 5cm), available in both patented clamp and adhesive version. The patented clamp provides double adjustment, to suit different inclinations, and thicknesses ranging from 8mm to 30/35mm.  The adhesive version is suitable for bathtubs and sinks over 30/35mm thick and for tops and countertops not plastered. The gel adhesiveness allows a firm grip on the surface without affecting it, while still being removable and repositionable.
Ideal/Perfect for any bathroom = Ideale per ogni stanza da bagno
The Grip pan and bowl are available in black, shade, dove, sand and white, neutral colours designed to complement all bathtub types, as well as to all Geelli products. The patented clamp provides double adjustment to suit different thicknesses and inclinations. In addition, the integral polyurethane guarantees a soft feel and allows a use of the product also in humidity contexts, such as sinks and bathtubs.
As regards cleaning operations it is enough to use a damp and soft cloth, a neutral detergent and than leave to dry naturally. For proper maintenance of the product over time it is important not to use acid products, abrasive or solvents.
Do you want to know more about the Grip Collection? Click here to download the catalogue